Home > Geely in Lao > Introduction
Manignom Auto Group Company Limited (MAG) are official distributorship of   Geely Automotive International Corporation (GAIC) for all Geely cars in Laos since February 2021 onward.
Manignom Auto Group to strengthen its business in passenger car section with the cooperation with the No.1 Chinese Brand. This will increase the competitiveness of the passenger car market of Manignom Group in 2021, as well as offer a new alternative to people who are interested in vehicle innovations and mobility experience that exceeds expectations.
Geely Auto is a core subsidiary of Geely Holding Group (Geely Holding), a global automotive group with operations spanning the automotive value chain, from research, development and design to production, sales and servicing. Established in 1986 and entering the automotive industry in 1997, Geely Holding has since expanded significantly with controlling stakes in many established international brands and partnerships, such as 99% ownership of Volvo, a 51% controlling-stake in Lotus and a 9.7% stake in Daimler AG. In 2020, Mercedes-Benz and Geely Holding announced formal establishment of the global joint venture "smart Automobile Co., Ltd." for the smart brand.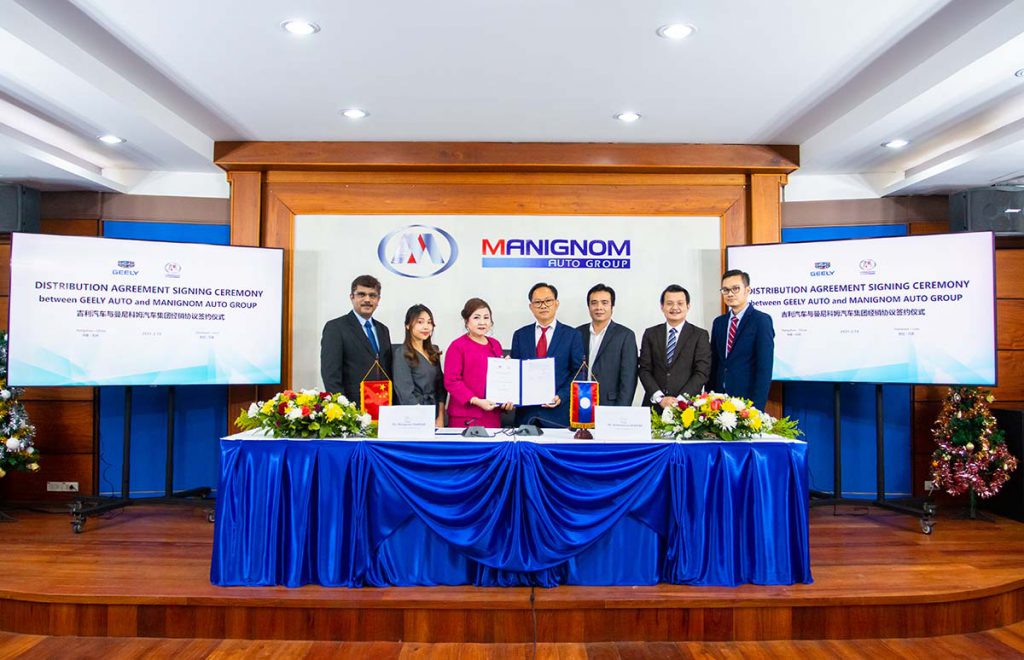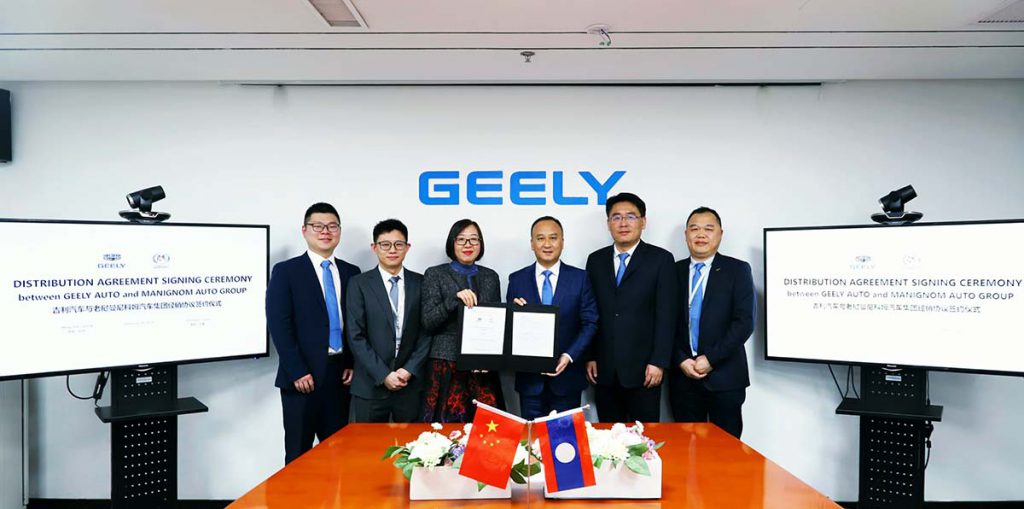 Geely Holding manages several leading brands including Geely Auto, Volvo, Lynk & Co, Lotus, Polestar, Proton Cars, Lotus, Geometry and London Taxi, operates over 40 manufacturing and assembly plants, 8 R&D centres, and 8 design centres across North America, Europe, China, and South East Asia. Through the support of Geely Holding, brands under the Group's management sold over 2.1 million vehicles globally in 2020. In 2020, Geely Auto's Hong Kong-listed holding company including Lynk & Co and Geometry reported 2020 sales of 1.32 million units., (aim target to 1.5 million units in 2021) the Geely Auto brand increased its market share and retained its position as the best-selling Chinese brand for the fourth consecutive year. The brand passed a historic milestone with its 10 millionth vehicle sold, a first for a Chinese auto brand.
Geely Holding has been listed in the 2020 Fortune Global 500 for the past nine consecutive year, ranking 243rd with revenues of US$47.8 billion in 2020. Since first entering the Fortune Global 500 in 2012, Geely Holding has risen over 200 places.
It was able to show the potential of international brand from China to the world
Manignom Auto Group has made an effort to highlight the potential and competitiveness in the world market of new branded cars to be added to compete in the Lao market. Geely has responded to all those requirements in terms of proven new technology from Volvo's joint development, as well as global sales that no Chinese brand has ever achieved before. 
Big sales volume of Geely in the past years is a guarantee of innovation that is proven. It is competitive, support from parent company from China, as well as GEELY dealer partners in Asia and around the world, products covering all segments of the car market, including new technologies like EV Car (electric car) that in the future will be brought to Laos as well  according to market demand.
With Geely's overseas strategy pushing forward and gradual introduction of the 4.0 era of products to the world, the power of Geely's brand and products continues to increase. In 2020, total sales of Geely brands reach 2.1 million units, with 73,000 overseas sales, 25 percent increase. 
In the rapid growth process, Geely Automative International Corporation (GAIC) are looking for partners who remain in management, quality and similarly value growth. With this background, the cooperation between Manignom and Geely becomes more important. As a trusted partner for the strength and many years of automotive sales experience belonging to Manignom Auto Group, we will go forward and develop deeply in the Lao market together to deliver innovative, scientific and technology to Lao consumers and thoughtful service.
Manignom Auto Group will build a Geely showroom with Class-A facilities, to match Geely's standards. This will come up at the Silamduan intersection and will expanding to another province to coverage all sale teritery in Laos PDR within 3 years.