Geely Auto's popular model, Coolray was an instant success. Coolray's global sales have exceeded 400,000 units in the past three years. Coolray ranks among the top three in the compact SUV market segment in China's highly competitive automobile market. After entering the international stage in 2019, Coolray quickly became popular in Eastern Europe, the Middle East, Asia Pacific and other regions. It has won the hearts of countless users, once retained No. 1 in its market segment in the Philippines, and ranked top in its segments in Russia, Saudi Arabia and other places.
In the fierce international competition, Geely's systematic manufacturing capacity and global gene have contributed to Coolray's success. Over the years, through integrating global vehicle manufacturing resources and absorbing the mature manufacturing concepts and techniques of basic modular architecture, Geely has developed and designed its internationally leading BMA architecture completely independently. As the first SUV under the BMA architecture, Coolray is ahead of its peers in power, interior space and safety.
Based on the needs of more than 400,000 users worldwide, Coolray has been upgraded with more stylish and sportier color choices including new Blue and Yellow. Besides, Coolray's flagship model has also been added a front seat ventilation feature with its original mechanical trunk door thoughtfully upgraded to an electric trunk door. Users now can just click a button or press their key to open or close the trunk. This comes really handy especially when both your hands are preoccupied.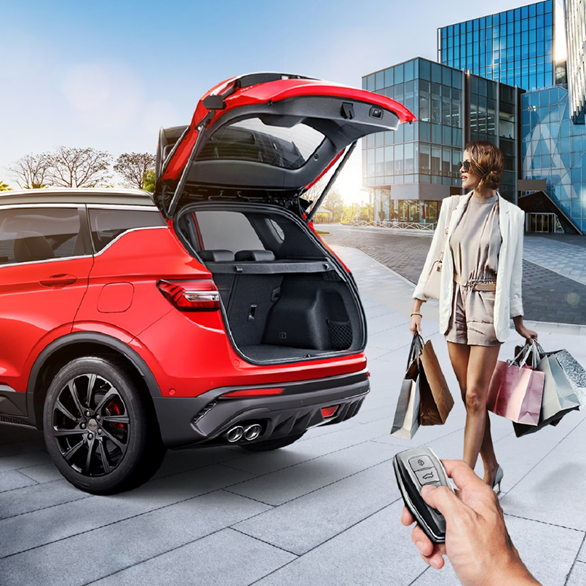 In terms of technology configurations, Coolray's Automatic Parking Assist (APA) allows you to easily complete side parking or backing it into the parking space by pressing the buttons, which makes parking no longer a problem for novice drivers. With the 360°1-million-pixel HD panoramic image system eliminating blind area for you, parking and turning become much safer. Coolray is also equipped with a Blind Spot Detection (BSD) system, which most of its peers don't have. This can expand the detection range up to 18m² when running at 30-140km/h in order to help identify risk and make lane changing safer.
Coolray's performance in power appeals to the younger generation that love speed and passion. The golden power combination of 1.5TD+7DCT means that you can accelerate from 0 to 100km/h within only 7.9s with quick response to gear shifting. The product life is expected to be 46% more than the European and American standard, so that users can enjoy the fun of driving.
In November, 150 Coolrays were assembled in Lianyungang, China and sent to Chile for their new journey. With its outstanding performance and high quality reputation, Coolray has become Geely's pioneer in the international SUV market, and is veritably a global top-selling model. In the future, Coolray will lead the trend of travel for more and more global users.