After winning the title of "New Car of the Year" in the SUV of the Year competition held by the Russian professional automobile magazine CLUB 4X4 last year, Geely Coolray once again stood out in the 2021 SUV of the Year competition and won the "2021 Two-wheel drive Compact SUV of the Year" award voted by Internet bloggers.
SUV of the Year Award Selection, a professional competition, has been held for 16 consecutive years by CLUB 4X4 automobile magazine. Its awards are of significant value and have profound influence in Russia. Every year the competition attracts big-name manufacturers in the Russian automotive industry to compete for the annual awards.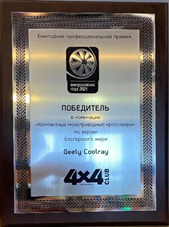 This year's competition jury is comprised of three teams: public judges, expert judges, and blogger judges. Public judges are online voters; expert judges are comprised of experts from automobile media; and blogger judges incorporate well-known automobile bloggers. The judges vote for their favorite models based on exterior, design, comfort, safety, performance, handling, and various other aspects.
With its fashionable exterior, exquisite interior design, acceleration ability to reach 100 km/h within only 8.4 seconds, excellent driving performance and advanced configurations guaranteeing comfort and safety, Geely Coolray has, since its launch in the Russian market in March last year, attracted a large number of consumers, especially the younger generation. Geely Coolray stands out in the most competitive compact SUV market, gets highly recognized by its users, and won the "2021 Two-drive Compact SUV of the Year" award. Coolray deserved it!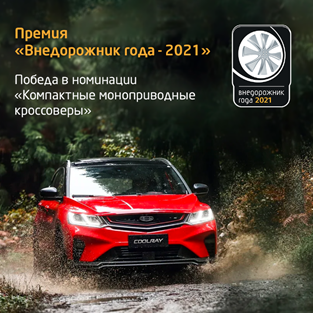 After test driving Coolray themselves, many users commented on social media that it was "an absolutely fabulous car" and "so cool". We believe that the much-adored Coolray will bring more pleasant travel experiences to Russian customers.